Alternate Reality Concerts from the Ancient Future

Dedicated to a Better Future Through World Fusion Music
Subscribers to the Ancient Future Times wrote to suggest that Ancient Future offer virtual concerts during the pandemic and beyond. A new series of Alternate Reality Concerts from the Ancient Future was created in response. Matthew Montfort was the inaugural performer with a 30 minute live concert on his birthday, February 12, 2021. His improvisational scalloped fretboard guitar performance was streamed and recorded on Zoom.
With over two dozen musicians who live in different cities and perform together in various configurations, arranging an ensemble performance during a pandemic is a considerable challenge. But as vaccinations roll out and the weather warms, it should be possible to stream outdoor group concerts later in the year with enough financial and technical support. Setting up tours requires extensive investments of time and resources, so even when the pandemic is in the rear view mirror, Ancient Future plans on continuing to stream live concerts to reach fans all over the world.
In the meantime, more solo performances and call-and-response round robins are in the works featuring master musicians such as Pandit Habib Khan (sitar), Aditya Kalyanpur (tabla), Shenshen Zhang (pipa), and Faisal Zedan (Syrian percussion).
To sign up for upcoming shows, simply send your email address to info@ancient-future.com. Put "Alternate Reality Concert" in the subject. You will receive a link to participate before each performance. There's no charge, but donations are accepted.
First Video from the Alternate Reality Concert Series
Inaugural Recital by Matthew Montfort on Scalloped Fretboard Guitar
Sympathetic Serenade for Scalloped Fretboard Guitar by Matthew Montfort
YouTube Video: https://youtu.be/smFCU30iWjE
When Matthew Montfort was working on his debut solo recording for scalloped fretboard guitar (a special guitar modified to enable ornaments characteristic of the sitar), he recorded a number of spontaneously improvised serenades. Were it not for some serendipitous sequencing coupled with the allure of alliteration, it's likely that Sympathetic Serenade would have been released as the eighth improvisation on what became Seven Serenades for Scalloped Fretboard Guitar. Instead, this evocative serenade was released as a mini EP. In this live recording from the inaugural performance of the Alternate Reality Concert Series from the Ancient Future, he revisits the piece with a new interpretation on his custom Martin scalloped fretboard guitar in which he expands on the original's use of the melodic elements of Rag Bhairavi and mixes in chordal structures from Spanish guitar music.
Matthew Montfort Introduces Sympathetic Serenade for Scalloped Fretboard Guitar and the Alternate Reality Concert Series
YouTube Video: https://youtu.be/OlieVmYQ2tA
Matthew Montfort talks about his first solo guitar mini EP, Sympathetic Serenade for Scalloped Fretboard Guitar, and his plans for the Alternate Reality Concert Series from the Ancient Future.
Playlist with Both Video Excerpts: https://youtube.com/playlist?list=PLzj87klpoW4HvFS4hYwojk1Ir1ICc66xf
Sympathetic Serenade Mini EP
Hi-Res Cover Art by Matthew Montfort (2 MB, 300 dpi 5" x 5")
Sympathetic Serenade for Scalloped Fretboard Guitar by Matthew Montfort. Ancient-Future.Com EP AF-2012. Signed EP CD-R. List $12.98. Buy Link. iTunes. >YTmusic.
Video is First Featuring Matthew Montfort's New Scalloped Fretboard Guitar
Hi-Res Photo of Martin Guitar with Scalloped Fretboard by Alan Perlman (3.6 MB, 300 dpi, 7.4" x 14.8")
Hi-Res Photo of Scalloped Fretboard by Alan Perlman (6.6 MB, 300 dpi, 15.3" x 9.7")
Custom Martin Guitar with Fretboard Scalloped by Alan Perlman
The video of Sympathetic Serenade from the inaugural edition of the Alternate Reality Concert Series is the very first release featuring Montfort's latest custom scalloped fretboard guitar, which is the result of a collaboration between Montfort, Dick Boak of the Artist Relations Department of C.F. Martin & Co., and San Francisco luthier Alan Perlman.
Dick Boak has been involved in the conception of more than one hundred forty signature guitar collaborations with the top musical talents of our time. He worked with Montfort to help design the instrument, which features a very large sound hole to add volume, an extra upper bout sound hole so that Montfort can hear the guitar better, a cutaway with extra frets protruding into the sound hole to accommodate his extended playing range, and a short scale yet wide neck to allow for greater string bending capability.
Master luthier Alan Perlman was also a consultant in the design and added the final modifications including scalloping the fretboard using new methods he developed. Scalloping a fretboard is a process by which the wood in between the frets is hollowed out so that the pads of the fingers touch only the strings and not the fretboard. This reduces friction while bending strings to produce ornaments more characteristic of the sitar.
Ancient Future Bandleader and Birthday Boy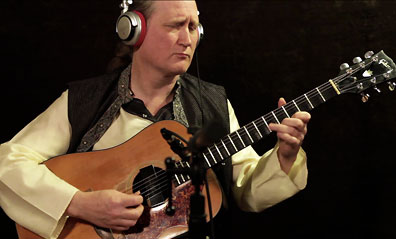 Hi-Res Photo of Matthew Montfort (5' x 3', 300 dpi, 678k)
Matthew Montfort (band leader, scalloped fretboard guitar, fretless guitar, flamenco guitar, charango, sitar, mandolin, and other plucked string instruments)
"Matthew Montfort conjures lovely Asian zither-like inflections with a scalloped fretboard guitar." – Guitar Player Magazine
Matthew Montfort is the leader of the world fusion music ensemble Ancient Future. He is a pioneer of the scalloped fretboard guitar (an instrument combining qualities of the South Indian vina and the steel string guitar). Montfort spent three months in intensive study with vina master K.S. Subramanian in order to fully apply the South Indian gamaka (note-bending) techniques to the guitar. In August, 2012, partly in response to the mini EP release of his Sympathetic Serenade for Scalloped Fretboard Guitar, Matthew Montfort was added to DigitalDreamDoor.com's 100 Greatest Acoustic Guitarists list. Inclusion on the list is based on originality, innovation, technique, and influence on other acoustic guitarists. In 2009, he released his first solo guitar recording, Seven Serenades for Scalloped Fretboard Guitar, which reached #8 on Zone Music Reporter's World Radio Chart. The December 2009 Les Paul issue of Guitar Player Magazine includes a full page feature on Matthew Montfort with a corresponding GuitarPlayer.Com video and lesson entitled "The Music of Jimi Hendrix Applied to Indian Raga." He has performed concerts world wide, including at the Festival Internacional de la Guitarra on the golden coast of Spain near Barcelona and the Mumbai Festival at the Gateway of India in Bombay. He has performed live on national radio and TV shows such as the Rachel Maddow Show on MSNBC. Montfort wrote the book Ancient Traditions - Future Possibilities: Rhythmic Training Throug..., which has been used by many musicians to improve their rhythm skills.