Mythical dragons appear,
During this renewed era of 'once upon a time',
As we realize a collectively conscious global culture.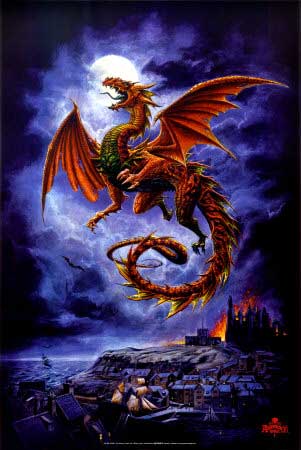 ---
"Tell me about the Dragons." (says Andrew)
---
Vic says ...
"Ahhh yes: The Dragons.
They will begin to appear in the sky;
Fireballs of hell will be one's first impression -
An explosion of Universal vomit upon Earth's shell.
This will Mythically define the release
Of Consciousness's toxic Nature,
As It's upheaval announces entry
Into a new Story of (wo)Man's-kind,
And the greater Life we re-present.
The Dragons are a Great Gift to the World.
An unfurling and unfolding of the Sacred,
Through Existence and our festering Wounds,
Becomes our own offerings that heal.
-----------------------------------------------------------
How to Embark on the "Changing Normal" Journey
JOIN Architects of a New Dawn's "CHANGING NORMAL" GROUP
OR ... go to the
ChangingNormal
site directly ...
Hi there,
Changing Normal is about change at the level of mythical proportions, but it starts with aspects of our real world. At this site, allow yourself to merge with this community's potential and it will take you into realms of the unknown to set new levels of awareness. Changing Normal is a (w)holistic process and can get messy. So, accept chaos, overwhelm, and confusion, and use them to direct you into the depths of your own inner labyrinth of insight. Let inspiration be your guide as you gradually become clear on what you want to manifest. Here's
how to get started
.
Contact me anytime via
my page
.
Vic Desotelle
ChangingNormal.com
founder
http://VicDesotelle.com