Ancient Future World Without Walls Reunion Concert
World Jazz featuring Matthew Montfort (scalloped fretboard guitar), Jim Hurley (violin), Doug McKeehan (keyboards, piano), Ian Dogole (percussion) and Kash Killion (bass)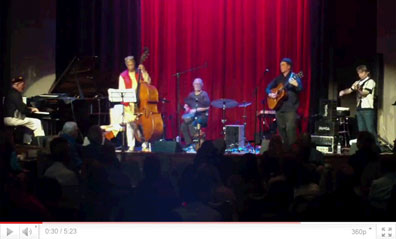 Ancient Future Performs '14 Steps' at "World Without Walls" Reunion
Wednesday, October 16, 8 pm
Freight and Salvage
2020 Addison Street
Berkeley, CA 94704
Tix: $18.50 in advance, $20.50 at the door.
Info: Call 510-644-2020 or email info@freightandsalvage.org
Poster (703k pdf). Facebook Event.
The exact lineup of Ancient Future that performed on the band's influential World Without Walls and Asian Fusion recordings will reunite to perform at the Freight and Salvage in Berkeley. The reunion show features the original lineup of Matthew Montfort on scalloped fretboard guitar, Jim Hurley on violin, Doug McKeehan on keyboards, and Ian Dogole on percussion, plus Kash Killion on bass.
This lineup of Ancient Future played over a hundred concerts together from 1988 to 1995. In 2011, they reunited for the first time in 15 years to perform concerts at Todos Santos Plaza in Concord and Yoshi's San Francisco. In honor of the reunion, World Without Walls was released digitally by Capitol Records for the first time at digital retailers such as iTunes. Twenty two years after its initial release in 1990, broadcasters worldwide voted the record as one of the top 5 world music releases of 2012. More concerts were planned, but bandleader Matthew Montfort suffered wrist and shoulder injuries, so performances were suspended until September 2012, when the band performed at the Frick Museum in Pittsburgh, Pennsylvania. This show at the Freight and Salvage will be their fourth reunion concert.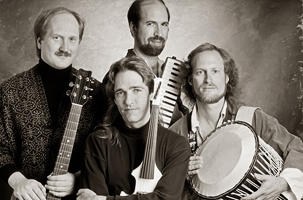 Ancient Future circa 1990. Photo by Irene Young 
Formed in 1978, Ancient Future is the first and longest running musical organization dedicated exclusively to the mission of creating world fusion music. The term was coined by bandleader Matthew Montfort to describe Ancient Future's unusual blend of musical traditions from around the world. BILLBOARD calls the group "trendsetters" for their early contributions to the movement, which seeks to show how people from different cultures can grow by learning from each other. Ancient Future's music is an exhilarating mix of jazz improvisation with the exciting rhythms and enchanting melodies of world music.