This will be the first of series of return visits to some of my favorite Chicago-land haunted locations to be filmed/photographed in HD.
*Visual effects have been added to this video.
The Italian Bride is @ 38:36
Al Capone is @ 43:30
Dean O'Banion is @ 45:17
Hymie Weiss is @ 47:30
Here is the photo album (edited for color and clarity): http://s541.photobucket.com/user/MrHalfhand/library/Return%20To%20M...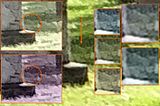 ------------------