New Youtube Video from Ancient Future 'World Without Walls' Reunion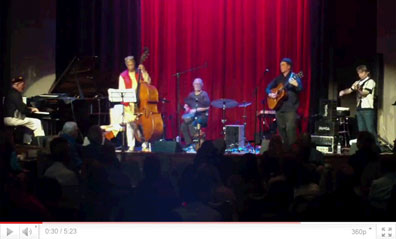 Live Version of 'Turkish Taffy' Recorded at Yoshi's, San Francisco, 6/7/11:
http://youtu.be/e0YyuM7YTIo
On June 7, 2011, the exact lineup of Ancient Future that performed on the band's influential World Without Walls recording reunited to perform for the first time in over 15 years at Yoshi's San Francisco, where this video of Doug McKeehan's 'Turkish Taffy' composition was recorded. Performing in the video are Doug McKeehan (piano), Kash Killion (bass), Ian Dogole (percussion), Matthew Montfort (scalloped fretboard guitar), and Jim Hurley (violin).
'World Without Walls' by Ancient Future featuring Tabla Master Zakir Hussain on Capitol Records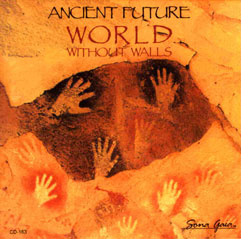 To celebrate the reunion, Capitol/EMI Records has released the first ever digital version of Ancient Future's classic 1990 World Without Walls recording. It is available at all major digital retailers (iTunes, etc.).
As its name suggests, World Without Walls by Ancient Future depicts a musical world without borders. This classic 1990 recording features Ancient Future members Matthew Montfort (guitars), Jim Hurley (violin), Doug McKeehan (keys), and Ian Dogole (percussion), plus special guest performances by world music legend and tabla master Zakir Hussain.
A limited number of rare collectible original 1990 edition copies signed by Ancient Future leader Matthew Montfort are on sale exclusively at Ancient-Future.Com for $24.98.
'World Without Walls' by Debuts on CMJ New World and ZMR World/Ambient Charts
The World Without Walls digital reissue debuted at #34 on the CMJ New World Chart in the November 18 issue of CMJ, and at #39 on the October Zone Music Reporter World/Ambient Chart, which are very high entry positions for a digital-only release.
Ancient Future Band Biography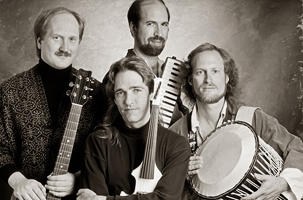 Ancient Future circa 1990. Photo by Irene Young. Pictured: Matthew Montfort, Jim Hurley, Doug McKeehan, Ian Dogole.
BILLBOARD calls the group "trendsetters" for contributing to the emerging movement known as world fusion music, a term Ancient Future leader Matthew Montfort coined at the band's inception in the late 1970's for music that blends musical ideas from many different cultures. Their original music is an exhilarating fusion of exciting rhythms and sounds from around the globe that combines contemporary jazz and rock with the irresistible rhythms of African, Balinese, Indian, Middle Eastern and South American percussion, the rich harmonies of Europe, and the beautiful melodies of Asia.
In the years since the initial CD release of World Without Walls, Ancient Future has expanded from its core lineup through collaborations with noted masters of various world music traditions who are now an integral part of what is today a large chamber ensemble of more than thirty performers from around the world with over a dozen smaller ensembles within it.
Quotes
"What's an album like World Without Walls doing in the GEPR? 'That's not prog!' I hear you say. Well, in my view it's definitely progressive, in the true sense of the word, rather than the 'sounds like Yes, Genesis or King Crimson' sense. Ancient Future coined the phrase 'World Fusion' to describe their music. Not insipid easy-listening 'World Music', though it might make you think of that if you aren't listening closely. World Without Walls is a remastered re-release of their 1990 classic, and doesn't sound dated at all. World Without Walls is a fusion of musical stylings, scales and rhythms from around the world. The main influences I hear are Middle Eastern, Indian and South American, though there's also Jamaican 'Island Music' sounds, Balinese and probably dozens of other influences too subtle for me to notice. The instruments run the gamut of acoustic instruments like violins, piano, tuned percussion instruments and tablas (by renowned master Zakir Hussain) and also electric guitar synths and synthesizers. Leader Matthew Montfort plays (along with other guitars) a unique scalloped-fretboard acoustic guitar which allows for subtle pitch-bending and timbre-modulation effects. A careful listen will reveal that this is way beyond the usual health-food store 'World Music' offerings and is instead a high-energy, very experimental fusion of styles from around the world. Highly recommended, and now offered as a digital download for the first time."Fred Trafton, Gibraltar Encyclopedia of Progessive Rock (Nov 2011)
"Bloody hell, get me some Alzheimer's drugs, will you? Ancient Future was on Narada's Sona Gaia subsidiary with a world beat album that was ahead of it's time and they were hanging out with Zappa's world beat buddies and I don't remember any of it? Each track has a different taste and a different texture making this a world beat travelogue that gleefully genre bends whatever the crew felt like with a merger of hillbilly and Indian music, the sound of an African traffic jam and more stuff that tastes good without the over riding vibe of being good for you. And it's not empty calories either. No wonder the group labored so long and so hard to get Capitol to reissue this, it's time. More bloody hell, new copies of this are going for over $200 on Amazon! How did I miss this? This is the world beat/jazz/pop album for people that shy away from things called world beat and jazz. Fun stuff throughout that still sounds fresh and in the moment today."Chris Spector, Midwest Record (July 2011)